Scroll down to get straight to auction details.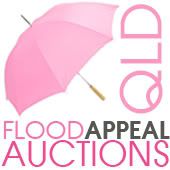 As I am sure you are all aware, Queensland, among many other places, are experiencing frightening weather. You may have read on my blog last week, that my family and I were there when it was happening and it WAS very frightening and we were relatively 'safe'! To be honest I was pretty shellshocked the first couple of days after we got back, so relieved to be home and safe. The pictures on the TV were harrowing.
We were frighteningly close on Tuesday, we found ourselves trapped at a service station on the Bruce Highway as the road to the south of that junction was flooded. As we came off the highway we found that the roads east and west were flooded and the only options were to either wait there or go north. As our hotel was south and we didn't know anyone north we decided to wait. After a couple hours we decided to book into the Motel that was next to the service station. Whilst there we heard on the news that a town was being evacuated: Caboolture. It was then that we realised the motel we were staying at was the Caboolture motel! People were being evacuated from the nearby town of Caboolture to the Service Station area that we were at! After a few more hours the police opened the northbound stretch of the highway to southbound traffic and we took our chance and got going. Driving back down to Brisbane was a bit scary as all the surrounding fields were covered in water. The southbound part of the highway was 3 foot under at one point and the water was rushing under the bit of road that we were on and was not far from covering that too!
Brisbane at that point was not too bad, our hotel was in the CBD and our apartment was overlooking the river. We saw the pontoons and boats floating down the river with all the other debris and it was going by pretty fast. By the morning the walkways were covered and across the river a pontoon had been destoyed and the area was flooded.

Tuesday evening
 
The Next Morning (Wed) the boat has been washed away, pontoon damaged and carpark in the top right corner is half covered.
We hurriedly made our way to the airport much earlier than would normally have been required just to make sure we got there safely.
Over the last couple of days I kept seeing blog posts that were having crafty auctions to raise money for the
Flood Appeal
. I'm hoping I'm not too late to join in. You can read about it all
here
, it was the brainchild of
Toni from Make it Perfect
. There are heaps of auctions around for beautiful things, you can check out the
master list here
.
As my experience relating to this disaster was all to do with travelling I thought it apt that my offering should be a set of Four Fabric Luggage Tags made from wonderfully fun travel themed fabric.
They measure about 3x5 inches apparox (8 x 12.5 cm). They have a clear plastic covering on the front with a pocket for an address label (included) or a business card.
I would normally sell these for AU$8.50 each to give you an idea of value, so the set would be worth AU$34. Bidding will start at AU$15 so dig deep folks!
How this auction works:
1. Bidding will start at $15 (Australian).
2. You can place a bid by leaving a comment on this blog post with your bid amount and email address. Please make sure that your bid is higher than the previous bidder.
3. Your bid must be in whole dollar increments.
4. This auction is open to everyone. Postage is FREE.
5. The auction begins NOW and will END at midnight on Monday 24th January 2011.
6. At the close of the auction, I will contact the winner (please make sure your bid comment includes your email address). The winner will pay the winning amount directly into the
Premier's Flood Relief Appeal
and send me proof of payment via email. Once proof of payment has been received, I will post your luggage tags to you.
7. Thankyou for participating and happy bidding!