It seems I haven't been posting all of the new patterns here to the blog! So I thought I'd do a quick round up of some of the recent patterns that are now available on the PATTERNS page.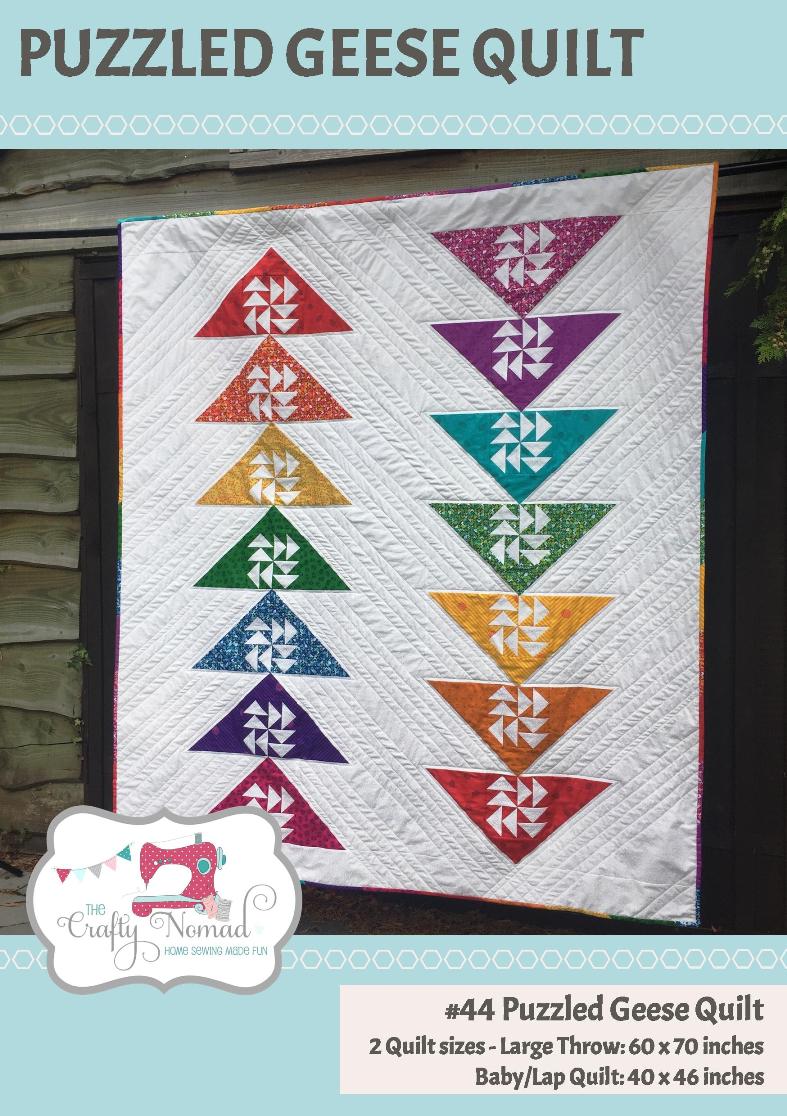 is my latest addition. It features blocks which consist of a traditional block (Dutchman's Puzzle) set into a a large triangle (Flying Geese). I've called it Puzzled Geese as although the two columns of large geese seem to know where they are going, the little ones inside seem a wee bit puzzled!
There are two size options for this design included in the pattern: Baby - 40 x 46 inches; and Large Throw - 60 x 70 inches.
I've included a Foundation Pattern Piecing option for the centre block and also instructions to piece it traditionally if you prefer that technique. I've also included a small section on making scrappy binding.
is the perfect size to fit all your necessities in. The handle length means it nestles comfortably under your arm. It features a recessed zip which can be a handy skill to learn. The pattern gives you the choice of fusible fleece or Bosal form to give the bag structure. Add the optional patchwork front panel, use one single fabric in the central panel or leave it out altogether and just use one fabric for the outer. The choice is all yours!
The bag finishes up at about 14½" x 6½" x 3½".
a modern quilt pattern with sleek lines got it's name as the inspiration for the design came from the windows of a traditional British public telephone box. I've used fabrics that also reflect that theme, but you certainly don't need to do that.
The pattern includes a variety of sizes: a large 56 x 70 inch quilt; a small 40 x 42 inch quilt; and a cushion cover.
✂️ Great for beginners
✂️ A really quick make
✂️ Perfect for large scale patterned fabric
✂️ Fat quarter friendly!
✂️ A staple pattern in your collection and one you return to again and again!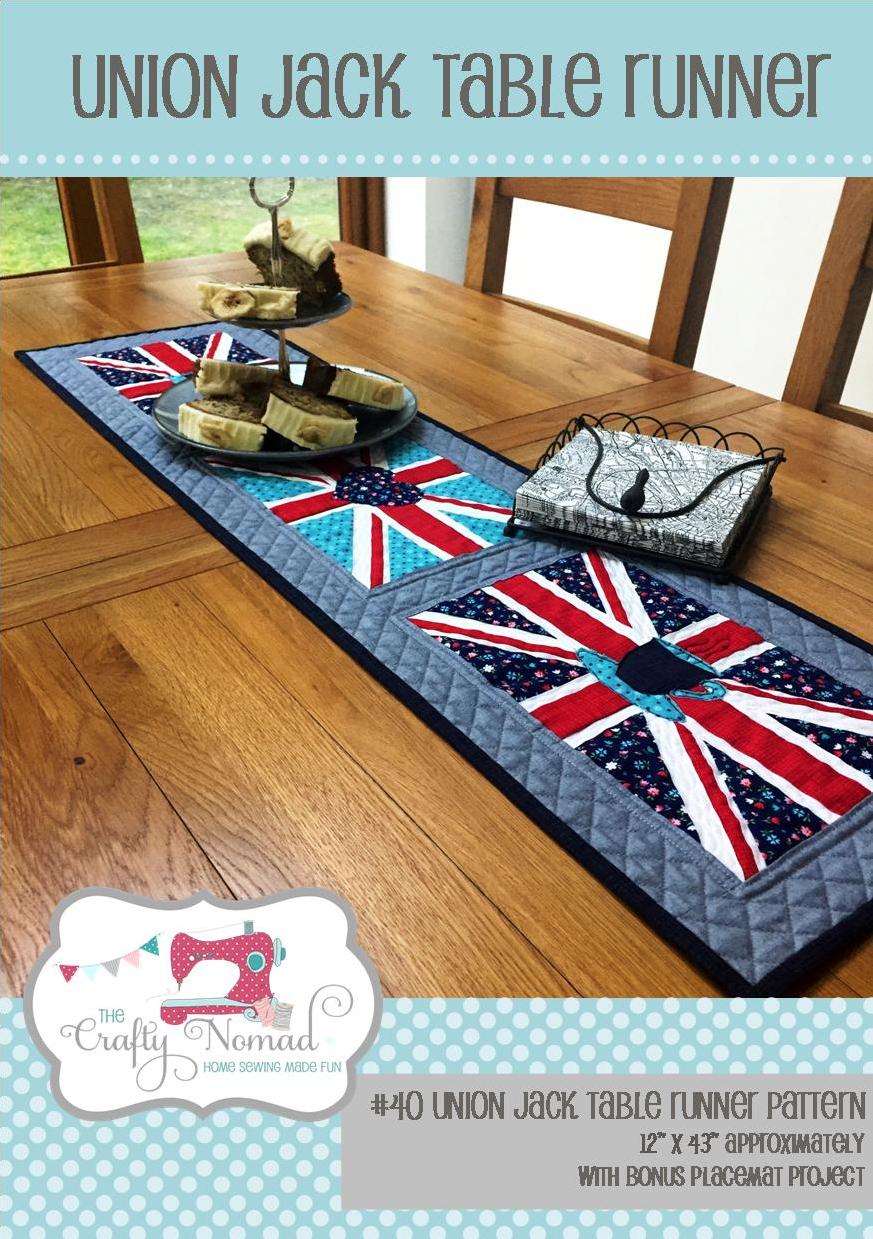 Inspired by the royal wedding I have designed a fun Union Jack flag table runner, perfect for all those street parties. It's a mix of traditional piecing, foundation paper piecing and appliqué. So lots of skills to stretch your muscles! The table runner will finish up at approximately 12 x 43 inches. Make with the heart, tea cup and crown appliqué images, or without. Up to you! As an added bonus there is a place mat pattern included too!
This modern patchwork pattern consists of a kite shaped foundation paper piecing pattern. I've made it in a rainbow spectrum but you could make it in any colour way. An ombre spectrum would look fabulous too. This pattern will provide dimensions to make a throw size quilt.
The quilt finishes up at 52 x 58 inches approximately.
Create Every Day Mini Quilt
Everyone needs to be reminded to make time to be creative, right? It's so good for our wellbeing to be creative every day. So having this mini quilt on your wall can serve as a daily reminder! This mini quilt consists of a Foundation Paper Pieced Pattern (the spool), regular piecing and raw edge appliqué (the letters).
The mini quilt finishes up at 22 inches square. There are also measurements for making it 20 inch square, so that you can make it into a cushion instead.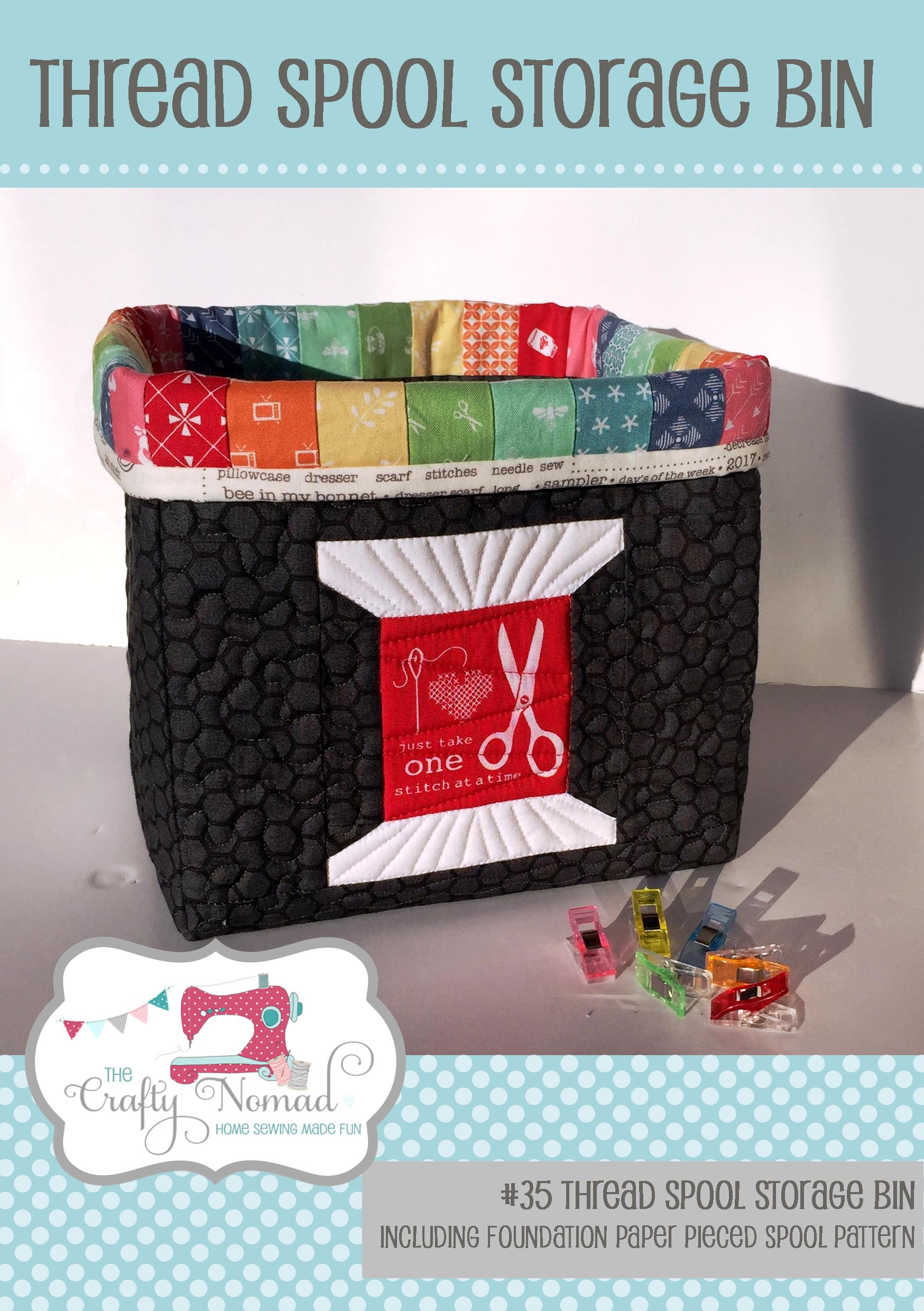 In this detailed colour pattern The Crafty Nomad will show you how to foundation paper piece this fun thread spool design. The tutorial will go on to show you how to incorporate these into a useful storage basket. It's perfect for storing all sorts of goodies in! The storage bin finishes up at approximately 8 inches square. You will learn how to work with Bosal In R Form which gives a really sturdy finish to the basket enabling it to hold it's shape and stand up. Instructions for making it with or without the foundation paper pieced spool. Make it all in one fabric if you prefer.
And below are some of my older designs, click on the picture for more info.